Welcome to Chicago:
Situated squarely in the center of the country, Chicago is easy to travel to from virtually everywhere. Thanks to thousands of flights options at two international airports, six class-one railroads, a vast network of major highways and a wide variety of airlines, it is one of the most cost-competitive and convenient cities for domestic and international travel.
---
McCormick Place West Convention Center
2301 S Lake Shore Dr, Chicago, IL 60616
mccormickplace.com
The NECA 2014 Chicago Convention & Trade Show will be held at the McCormick Place West Building. Located only minutes from downtown Chicago, the Hyatt Regency McCormick Place convention center recently obtained LEED® Gold certification, making this state-of-the-art facility perfect for NECA 2014 Chicago attendees and exhibitors.
---
Travel
Chicago offers two airports, Chicago O'Hare and Midway in order to get to the Convention.
GETTING HERE BY PLANE
O'Hare International Airport, located 17 miles from downtown, is one of the largest airports in the world. It is North America's major international gateway airport, servicing over 67 million passengers to and from over 200 destinations around the globe.
Midway International Airport is located 10 miles from downtown Chicago and offers another convenient travel option for visitors.  It is the nation's premier point-to-point airport, offering value-oriented leisure and business travel to over 60 destinations.
Visit flychicago.com for details on parking, amenities, flight status, terminal maps and more for both O'Hare and Midway airports. Executive Travel Associates (ETA) is NECA's preferred Travel Agent. If you would like to make your an Airline reservation, you can reach ETA at 1 800-498-2270.
Ground Transportation to Downtown
Both airports offer plentiful taxi service to downtown and the suburbs. Rates range from $40-50 from O'Hare, and $30-40 from Midway. Rates vary based on travel time and are subject to change.
The Chicago Transit Authority serves both airports for easy and economical travel between downtown and Chicago neighborhoods using the 'L' train. The 24-hour CTA Blue Line connects directly to O'Hare and the CTA Orange Line connects directly to Midway. Read more on getting around Chicago with public transportation or visit transitchicago.com/airports for full fare information and maps.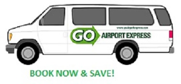 GO Airport Express offers airport shuttle services between Chicago area locations and O'Hare and Midway Airports. Efficient, safe, and economical airport shuttles depart from O'Hare and Midway Airports every 15 minutes for Chicago downtown and many suburban locations. Ground transportation is arranged by making a reservation.
Click Here to make your airport shuttle reservation/s, or call 1-800-284-3826 and use your 10% discount code: "NECA" (all one word).
Many major car rental companies have facilities at the O'Hare and Midway Airports, including Avis, Alamo, Budget and Hertz. Please visit specific rental company websites for details.
Limousine and chauffer agencies prefer that all customers reserve cars at least 48 hours in advance although cars can occasionally be ordered with a two-hour notice. Click here for a list of available transportation services.
---
GETTING HERE BY CAR
With it's central geopgraphic location and status as a hub for major interstates, Chicago is convenient to drive to from every region in the country. In fact, more than 20 million people live within a three-hour drive of the city.
Chicago is accessible via several major interstates and highways: I-90 (Kennedy Expressway), I-94 (Dan Ryan Expressway), I-55 (Stevenson Expressway), I-290 (Eisenhower Expressway), I-294 (Tri-State Tollway).
Use this fully-interactive parking map to search for parking options in downtown Chicago.
---
GETTING HERE BY BUS
Greyhound Lines, Inc. is the largest provider of intercity bus transportation, serving more than 3,800 destinations with 13,000 daily departures across North America. Greyhound has five metro-Chicago locations, including two 24-hour stations and 20 express routes to major US cities.
Megabus.com is the first, low-cost, express bus service to offer city-to-city travel for as low as $1 via the Internet. Since launching in April 2006, megabus.com has served more than 22 million customers throughout more than 120 cities across North America.
---
GETTING HERE BY TRAIN
Amtrak serves Chicago with about 50 trains arriving and departing daily. With 21,000 route miles in 46 states, the District of Columbia and three Canadian provinces, the national rail operator Amtrak offers more than 300 trains each day—at high speeds up to 150 mph—to more than 500 destinations.
The South Shore Line services Chicago through Northern Indiana to the South Bend Airport. If you are planning a trip involving a large group like a school function please call for groups rates 219-874-4221 ext. 245 at least one month prior to your date of travel.
---
*Travel information provided by Choose Chicago, www.choosechicago.com.